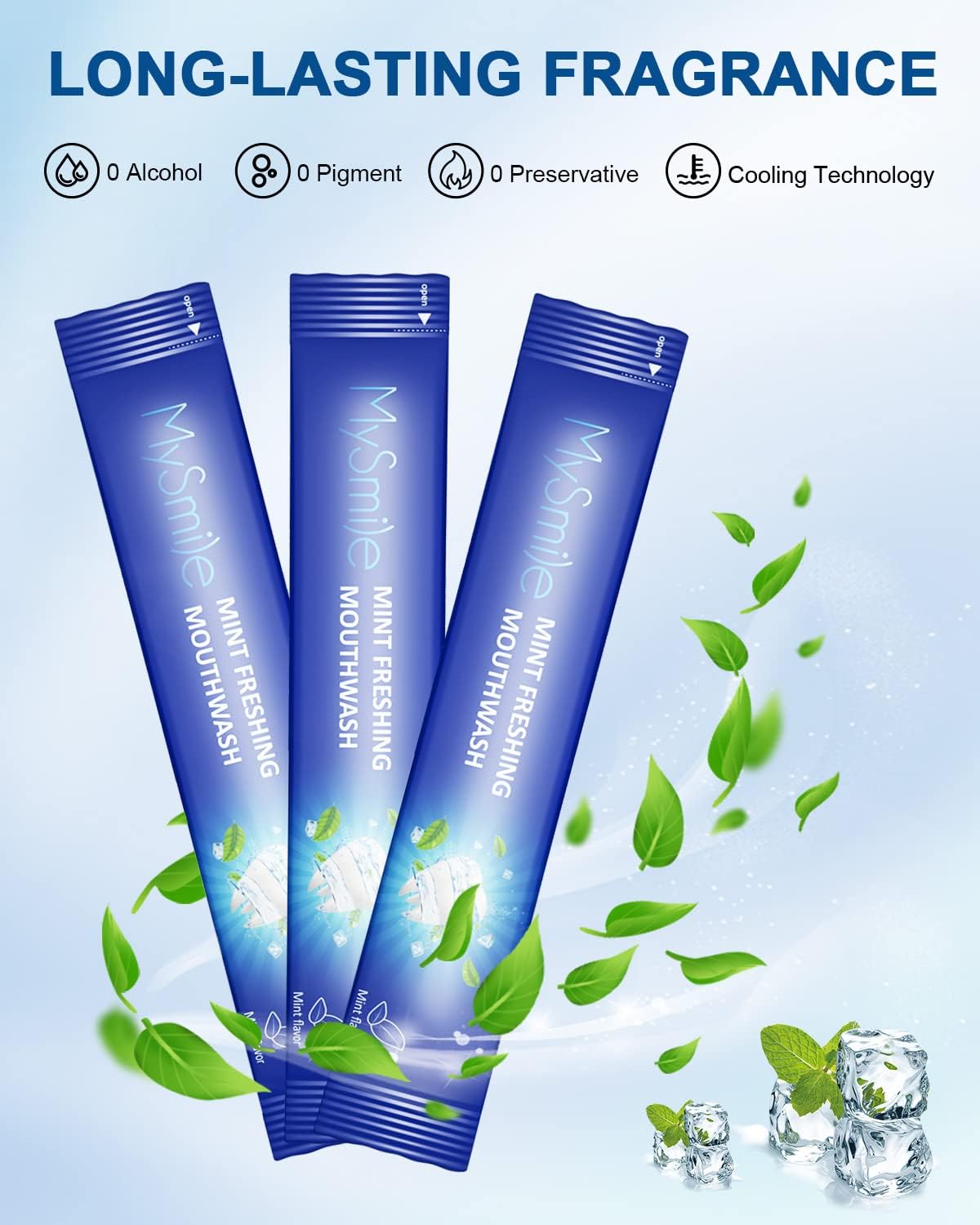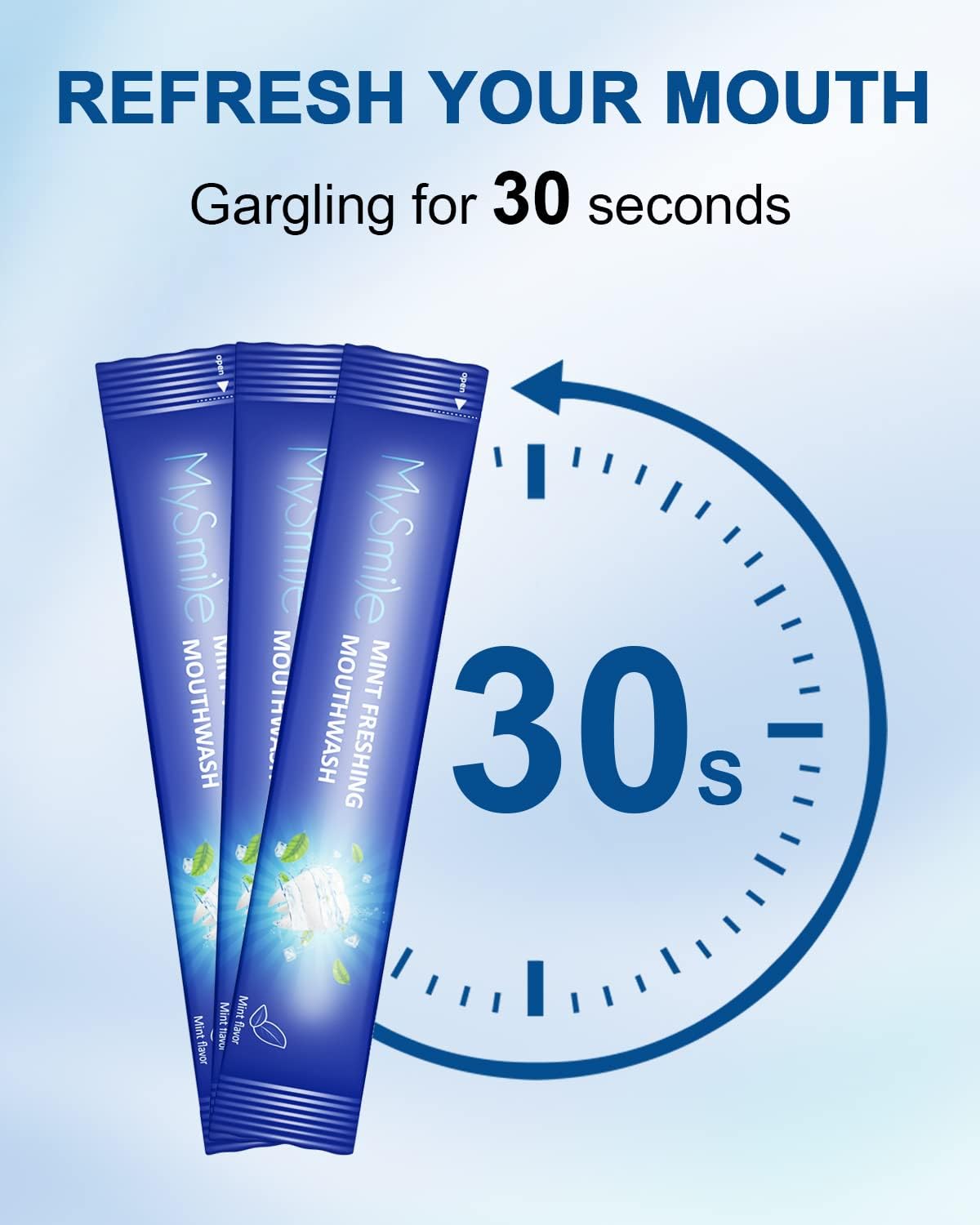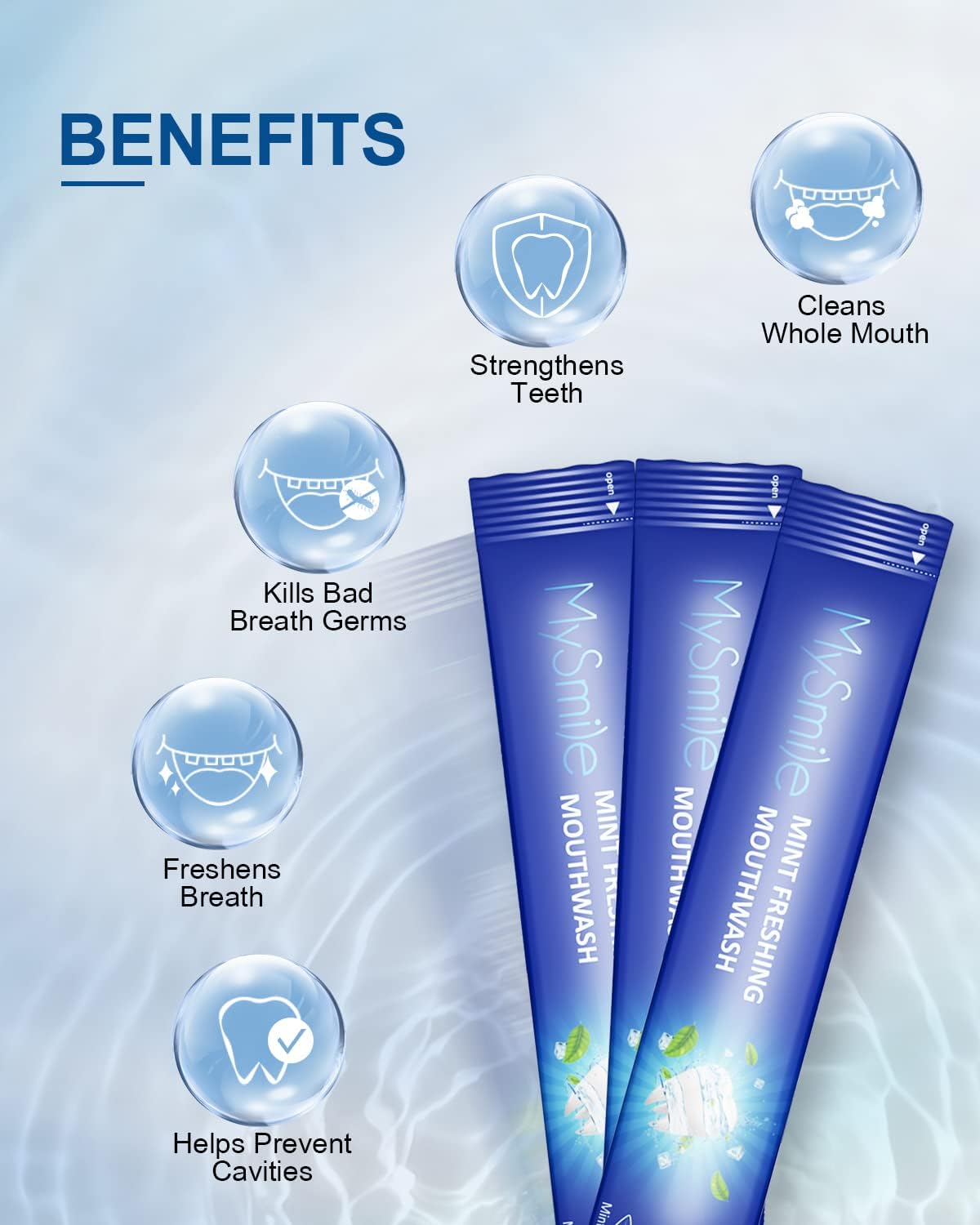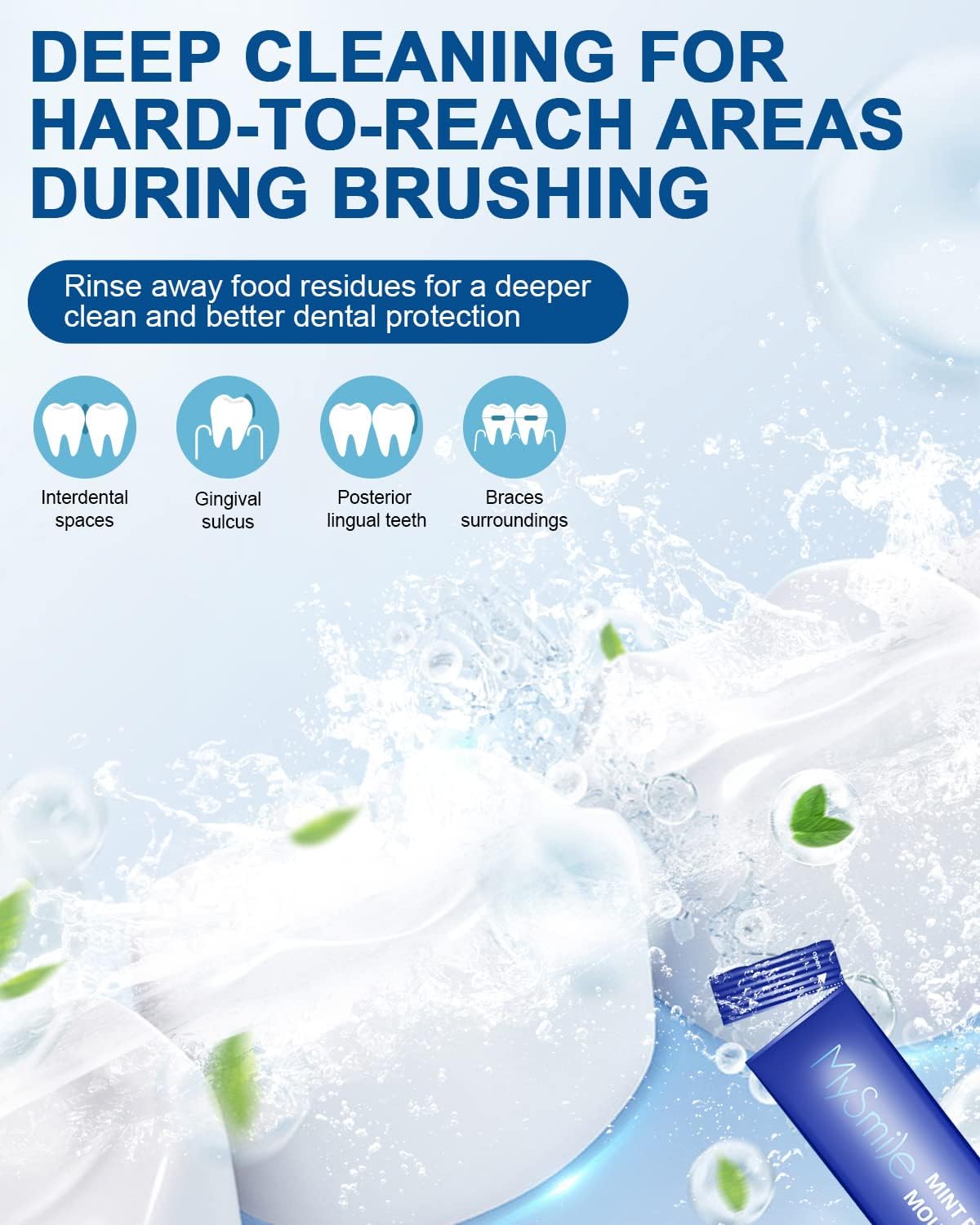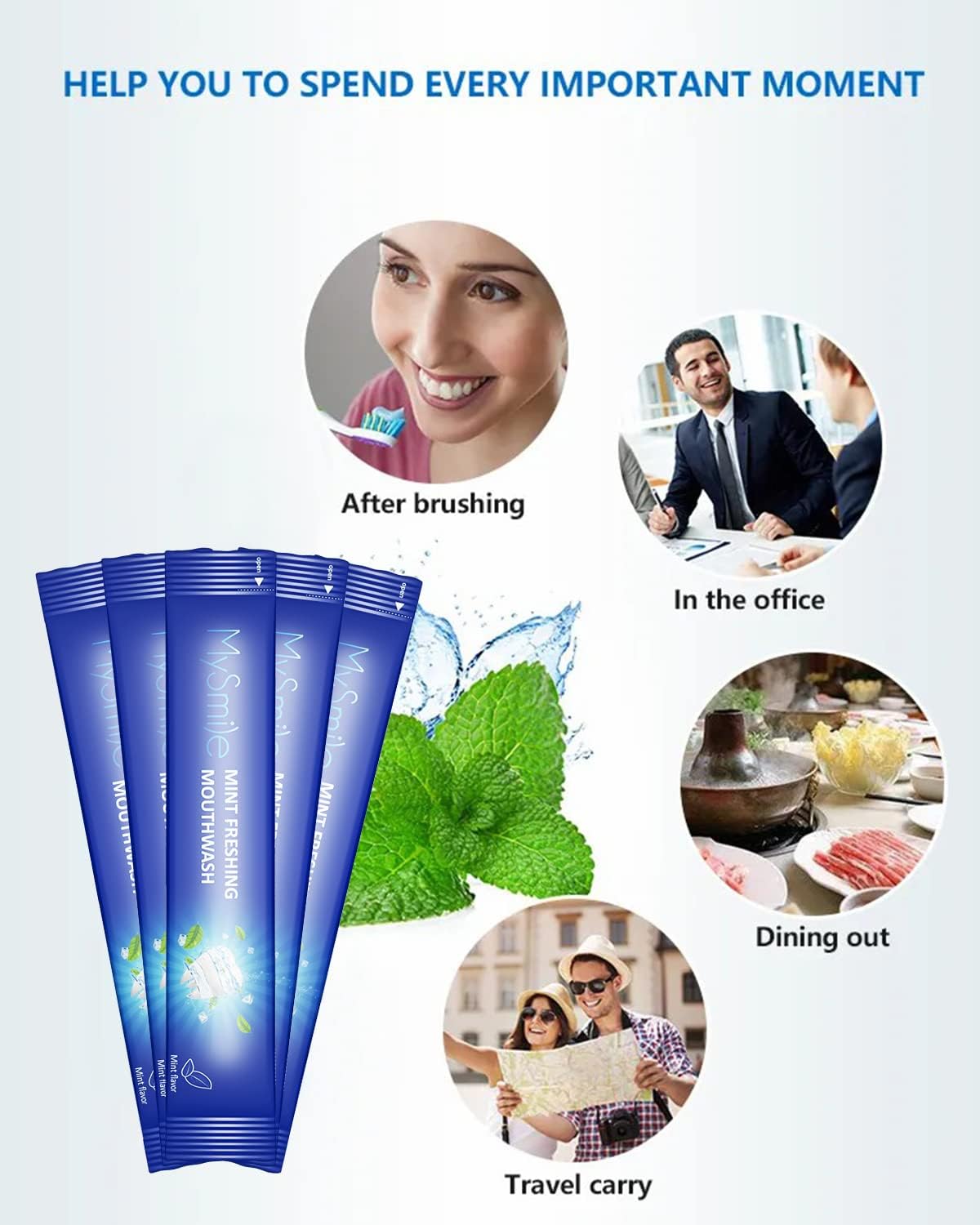 2 x Portable Alcohol Free Mouthwash (Pack of 30)
MORE 10 MOUTHWASH USES, INDIVIDUALLY PACKAGED
MySmile portable mouthwash adopts a strip design, each with 12ml content and 30 per box, Which is 50% more amount than other brands'. One strip per day can last up to 30 days.
Natural, food-grade ingredients. It's so safe for sensitive teeth, madding with alcohol-free, gluten-free and chemical-free ingredients are not irritating to the mouth.
LONG-LASTING FRESH BREATH GO
Deep cleaning your dry mouth and helps fight bad breath without any overwhelming sensation. It has a cool, minty flavor and keeps your fresh breath for 24 hours.
STRENGTHEN TEETH, HEALTHY GUMS
Providing extra protection for healthy gums. Effective in relieving gum redness, inflammation, irritation and a number of other oral problems.
The small individually-packed mouthwash sachets can fit in your purse and pocket. You can take the mouthwash packets individually and enjoy clean teeth, healthy gum and fresh breath everywhere you go: travel, work, dates.

2x MySmile® Portable Mouthwash (Pack of 30)
Take a single pack of mouthwash.
Tear it to open, and pour the mouthwash into your mouth.
Swish it around for 30 seconds. Make sure to swish it thoroughly through your teeth and around your gums.
Do not swallow the mouthwash.
Spit it out after swishing.
Do not rinse your mouth with water immediately after using the mouthwash.
Enjoy your fresh breath!
One syringe holds three applications so three syringes will last for nine applications. You can order the MySmile refill pack on our website
Yes, our product is compatible with permanent retainers, dental implants, braces and capped teeth. The whitening effect will work on natural teeth only.
Yes, our product is non-habit forming. You can stop using it once your teeth are all white and bright.
The frequency of whitening treatment varies by individual. It depends on a variety of factors like genetics and lifestyle habits. We recommend completing one day of whitening per month and a full 5-day MySmile whitening treatment every 6 months.